TreviPay Network
A Global Network
of Business Buyers & Sellers
The TreviPay Network provides buy now, pay later for business enabling point of purchase invoicing and payments in 32 countries.
An Open Network of Thousands of Buyers & Sellers with Global Payments & Invoicing
Offer point-of-purchase financing across all your sales channels with one simple integration. Your business customers can take advantage of BNPL for Business convenience with trade credit, onboarding, line-item invoicing for purchase order reconciliation and KYC/KYB/AML compliance.​ Trade Credit with no risk, no capital and no hassle.
Technology Features
Increase your customers' purchasing power. TreviPay has the highest buyer approval rates in the industry.
Real-time point-of-sale invoicing can grow cart sizes and increase repeat purchasing.
Flexible reimbursement frees up capital and improves your balance sheet.
90,000 businesses from SMBs to large enterprises rely on the TreviPay network to conduct trade with more than $3B in extended trade credit.
Offer TreviPay as a Payment Option
Offer TreviPay as a payment option to launch invoicing and trade credit across all sales channels while avoiding the risk, costs and capital requirements of traditional accounts receivable.
Easy integration with simple APIs to add TreviPay as a payment option on your checkout page with invoicing and terms to your customers.

Real-time buyer decisioning and onboarding in <30 seconds with AML/KYC/KYB and identity fraud prevention.

Invoicing with 30 to 90-day payment terms and settlement in as little as 48 hours.

All transaction details and status in real-time via the intuitive TreviPay buyer and seller portals.
TreviPay Helps Grow Your Business
Expand your buyer network with the highest buyer approval rates in the industry.
Your clients apply using 100% digital processes and can be onboarded in less than 30 seconds.
TreviPay underwrites business credit lines from $5K to $20M so your clients can start spending immediately.
Customers purchase from you on any channel and TreviPay processes the payment.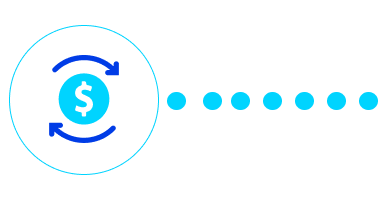 You get guaranteed payment with a choice of 2, 7, 14 or 30-day settlement.
Your customers pay on
30 to 90-day terms.
TreviPay is responsible for all collections.
Increase Conversions
Increase AOV
Increase LTV
Your Buyers' New Favorite Payment Method
Buyers increase their purchasing power with interest-free working capital while enjoying efficiencies through A/P process automation on the TreviPay Network.
Simplified invoicing with SKU-level details.

Automated reconciliation, purchase controls and dispute management.

Easy payment options including check,
wire, direct debit and credit card.
Resources for B2B Business Growth
The easiest way to launch a net terms program is just a click away.
Let TreviPay show you how you can reduce costs, increase sales and improve cashflow.