Blog · Approx. 2 minute read
What is Direct Billing?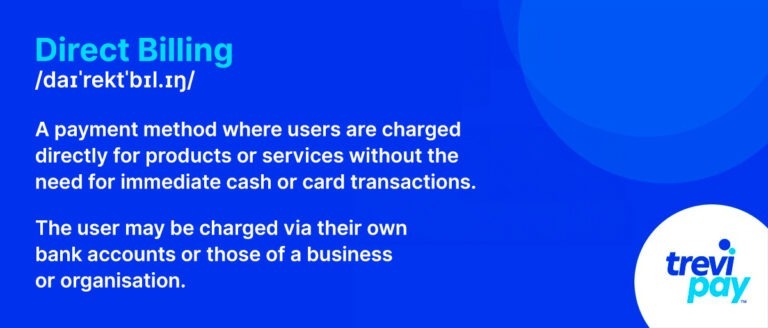 Direct billing refers to a payment method where users are charged directly for products or services without the need for immediate cash or card transactions.
The user may be charged via their own bank accounts or those of a business or organisation.
The main point of direct billing is convenience and efficiency for both the buyer and the seller.
It saves users from filling out forms and making payments directly. And it speeds up the time that it takes for providers to receive payments, which improves their cashflow.
Direct billing in the corporate world
Direct billing is very popular in many contexts throughout the corporate world.
One example is direct billing in the hotel industry for corporate travel.
Here, it spares employees and providers from having to process payments on the spot. And it saves accounts receivables departments from having to separately reimburse employees.
Direct billing in healthcare
Direct billing is particularly common in the healthcare industry, where health insurers pay hospitals or clinics directly on behalf of their customers, saving time and resources.
TreviPay's direct billing solutions
At TreviPay, we offer a range of business-to-business (B2B) payment solutions.
TreviPay's consolidated billing solution simplifies expense handling for corporations, while also relieving travellers from the stress of paying for and expensing their business stays. Consolidated billing is the cornerstone of corporate travel's successful revival.
Still intrigued about how hotel direct billing functions? Explore our Direct Billing Solution for Choice Hotels to gain further insight.
Stay up-to-date with the latest from TreviPay