Serve More Business Buyers
Increase revenue from B2B buyers by offering the benefit and convenience of net terms
Payments and Invoicing Innovation Designed for B2B Retailers

The Payment Experience B2B Buyers Expect
B2B retail buyers have lofty expectations when making high-value, repeat purchases. Many B2C retailers want to reach B2B buyers but aren't properly set up to effectively support invoicing and payment on terms, which is exactly what B2B buyers need.
Attract and Retain Business Buyers
An omnichannel payments solution to capture more market share from business clients. The power of choice gives your business customers what they need to buy more, more often.
Grow Purchasing Power with Net Terms Without Risk
Offer 30, 45, 60, or even 90-day net terms with quick onboarding to help your customers manage cash flow
Provide an omnichannel experience by giving your buyers the ability to purchase on invoice in-store, with their salesperson or online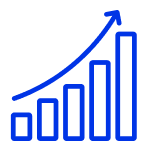 Increase AOV with a Dedicated Trade Credit Account
Closed-loop payment solution encourages loyalty
Automated application decisioning with quick onboarding and underwriting processes also reduce the risk of fraud

Meet Back-Office Demands
Enable purchase controls and invoices with SKU-level detail
Automate A/R to eliminate additional investment in back-office resources
Reduce manual processes by integrating with POS and internal ordering systems
The Power of TreviPay for B2B Retailers
114%
Lenovo saw a 114%
Increase in AOV
112%
Staples Commercial Credit program has nearly doubled and volume has grown 112%
$215M
A major B2B Electronics Retailer experienced a $215M increase in volume
Give B2B customers the payments and invoicing experience they have been asking for.